Somebody pinch me, I feel like I'm dreaming! And preferably pinch me in the penis! And preferably one of the waitresses. And with your tongue. Don't walk away! I haven't ordered yet.
Can I feel YOUR chicken breasts? Haha, get it? Oh, you've heard that one before? Yes I'd like something to drink. A Mello Yello will be fine. What?! You only carry Pepsi products?! This is an outrage. Let me talk to your manager.
Listen, are you going to sleep with me or not? What's with all this flirting? Who built this place? It's genius I tell you! You girls are like naked! I can see your boobs…when I close my eyes and imagine really hard.
You probably all have babies but that's okay. Your baby can watch us get it on, if you know what I mean. Of course we're ready to order. I'll take the chicken wings served as hot as that ass of yours, and my wife here will have a salad. You don't serve salad?! Alright, cool. How about just a Big Mac then.
Is there anything better than Hooters? I dare you to come up with one thing. Oh yeah, strip clubs. Prostitutes…right. True…actual sex.
Show us your tits! Haha, just kidding. But not if you will. But if it's creepy for me to say that and that destroys my chances of actually seeing your tits somehow, pretend you never heard that.
You have a boyfriend? That's SO stupid. Why would a girl like you have a boyfriend? Wait, that kinda sounded like an insult. I didn't mean it like that. Can I get a refill on this?
Hey, I'll give you a really good tip if you give me a BJ.
Listen, are you going to sleep with me or not? You're not? What's with all this flirting then? Talk about false advertising.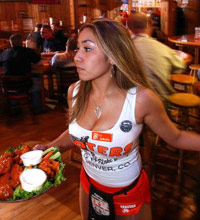 "My boobs are down here, okay? Stop looking at my face when you're talking to me."I'll give you a mediocre tip for a handjob. Can I get the check please?
Don't worry, we're not leaving yet, babe. Yeah, shake that ass as you walk away.
Hey, yes, you can help me. We need a hotter waitress. And a sluttier one, too.
Can I get a box for this? Can I get in your box? Ha, get it? …Can I, though? Still no?
This place is a ripoff. The waitresses don't sleep with the customers. What kind of restaurant is that?
I hope you all get herpes from bad chicken…'cause you certainly won't be getting it from a penis…'cause you're all fucking dyke slutty uptight prude lesbians.
I love you. Yes, I'll take some dessert. And a lapdance.
Hey, it's my birthday. Can I get some poon for that?
Alright, well we're gonna go pretty soon…
So if you have something or someone left to do…before we go…now would be the time….
Alright, we're seriously going now…
This is your last chance…
Damnit. Alright, whatever, see you NEVER, bitch. Slut.
By the way, what time do you open tomorrow?
8AM? Alrighty, see you then.
---
Thinking of upping your writing game? Second City's online "Writing Satire for the Internet" class starts Sept 23. Use code PIC for 10% off.