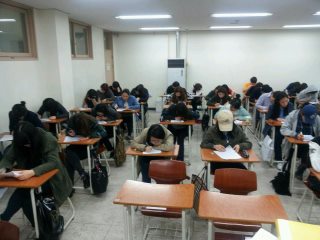 (My students taking tests and hiding tears) 
I haven't written jack dick in the past few weeks, mostly because of grading stuff, writing midterms, and now grading midterms. I guess I'm making up for the two-month vacation I took at the beginning of the year. 
So, in the great tradition of stealing my best humor from other people, here are the best answers to a bonus question from my midterm question: "How can Casey Professor improve this class?"
I think Professor Casey that handsome teacher and I want to enjoy class.

Professor Casey is good and well.
Give the shocker to annoying students.
You are a good teacher but I am not a good student.
I think a professor casey is very smart and handsome guy…Thank you I love you.
Professor Casey is my GOD! I love you. Casey = holy = lover. Don't give me F….??
Casey Teacher is very good teacher because you have warm heart.
I think teacher to angry because many student's talking too much.
I think there is many student sleeping in TOEIC class. Maybe, The reason is the class is so boring. So, professor Casey, please teach us more friendly, interesting and funny.please~~~~
Professor Casey is fast please slowly!
I'm sorry I don't understand this question. 
(And the best part of this particular blog is that I don't have to proofread anything these kids wrote.)
Related
Resources
---