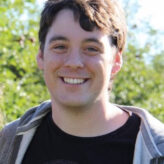 Brandon Hicks

Saint John

Brandon Hicks is a writer, cartoonist and filmmaker who, for some reason, lives in Canada. Member of the National Cartoonist Society, and the Comics Editor for The Rumpus.


Jokes
It's not easy being the son of Frankenstein. No matter how many bodies you reanimate, no matter how many villages get pillaged, people will always say, "Oh, you're Victor's boy!"
Listen, I'm just an ordinary Gleeflawrp. I put my qxtaag on one jrrtyllian at a bloarf, just like everybody else.