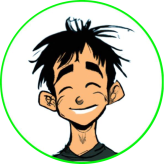 Jokes
Hanging with art friends and repeatedly pointing at graffiti and shouting "Is THAT a Banksy?!" until they snap.
McDonald's Employee: The ice cream machine is broken.
Women: I can fix him.
Magicians don't retire, they become disillusioned.
Assistant: I'm here to help!
Boss: I'm here to make sure you help!
Technically they're not free weights if they're trapped in a gym.