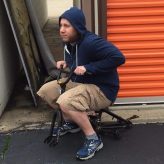 Todd Mitchell

St. Louis, MO

Comedy Writer: Weekly Humorist, End of the Bench Sports, Slackjaw, Points in Case, and more. Producer and host: GameDev Breakdown. Blogger-in-chief: CodeWritePlay.


Comedy Writing
Jokes
Three wise men arrive at the manger to see newborn baby Jesus.
Joseph: Why do they call you wise men?
Wise Man: We book our rooms in advance.
"10 Ways to Fix Your AirPods" definitely means "We Don't Know What's Wrong With Your AirPods."