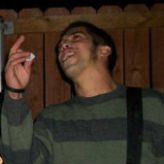 Russ Barnes

Philly

There's more to life than pondering life itself.


Jokes
Ok, I understand you shouldn't judge a book by its cover, but who actually wants to read a WHOLE book to judge it?
Pour some out for the homies that didn't make it– Whoa, whoa. Not THAT much.
Should a corn dog be called a cold dog since it needs a jacket? Or a HOTTER dog because it HAS a jacket? Something to chew on.