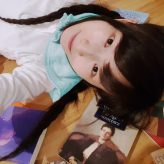 Monica Wang

Amsterdam

Monica Wang was born in Taichung, Taiwan, grew up in Metro Vancouver and Taipei, and now lives in Amsterdam. Having spent most of her life on an island/by the sea, having always loved seafood, and having had to peel ebi at sushi restaurants, she'd recognise shrimp tails in Cinnamon Toast Crunch anywhere.


Jokes
Me: It was the butler, in the dining room, with the plunger.
Genealogy website: OK. Now enter details about your mother.
You say I wasn't an overachieving Asian kid but when my dad said to go get a stick for my beating I brought back the biggest hunk of bamboo I could find. And this was in Western Canada.