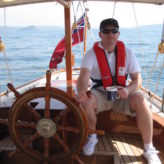 Matthew Davies

Sydney, Australia

Stand~up comic and writer based in Sydney, Australia.


Jokes
"Nice zombie costume!" the kids at Halloween exclaimed as I opened the door in my usual work-from-home clothes.
My word is my bond, unless you're my landlord, in which case it's $2,200.
My family gave me a smartwatch for Christmas. I'm hoping it will help with my 12 steps.