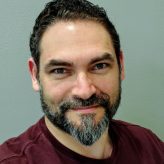 Markus Kublin

Los Angeles

Markus Kublin started his comedy career in Boston, performing sketch, improv, and stand-up comedy, before moving to Las Vegas where he starred in several live shows and attractions. Since moving to Los Angeles, he has written comedy for some big stars, including a host of The Tonight Show and the author of The Comedy Bible. Markus has written and directed short films you can find on YouTube, for which he receives no residuals. He performs at various venues in and out of L.A. and continues to write jokes, scripts, and very powerful Tweets.


Jokes
I don't believe in ghosts, which is why I never lend them money.
In my family, we don't believe in punishing our kids. At least, not until they untie us.
I gave my wife a dozen roses. She never needs to know that I ate the other dozen on the way home.
My uncle used to advise me to never forget Leg Day, which was just what he called the day he lost his leg.