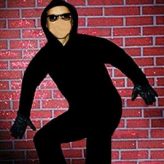 John Alejandro King

Extremely Near Washington DC

The Covert Comic, a.k.a. John Alejandro King, is believed to be the only person ever to have had a poem about the President's Daily Brief published while also having published an item (not that poem) in the President's Daily Brief.


Jokes
When you go to the office, you shouldn't have to leave your morals at the door. Your employer should provide a secure storage space in your cubicle.
The Super Bowl has become so commercialized, its religious meaning is in danger of being lost completely.