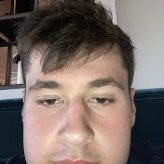 Joey Kauffman

Philadelphia, PA

I make a living writing social media bios for celebrities. Quirky phrase. Latest project now streaming.


Jokes
I'm glad I have social media because sometimes I feel a little too much like a real human being, and I need some anxiety to coax me back to normal.
"Never stop exploring," I say, as I find a previously hidden piece of belly button lint.
Me: I have Asperger's.
My Mom: What?
Me: I was diagnosed.
My Dog: Really sorry. Just wanted to ask about this butt food. Is it possible to do just the ass patty itself? Like, no bun? Actually, scratch that. I'll take it however the chef recommends.