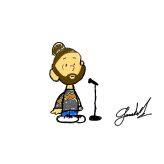 Jacob Nuckolls

Minneapolis

Staff writer at @TheGoodGodAbove on Twitter & Facebook, Acme Comedian's "Funniest Person" 2021 Semifinalist, and stand-up comedian & writer in Minneapolis, Minnesota.


Comedy Writing
Jokes
*Sees someone with gold, frankincense, or myrrh* Oh a wise guy, eh?
Spelling Bee? Yeah, that's super easy, it's only three letters.
"Not all who wander are lost" is a beautiful quote, but not so reassuring to hear from Google Maps.
If you date a musician, you don't "break up" with them, you drop a new single.
"You're an old soul" is a very polite way to say "you're not fun to be around."
Don't be intimidated by super models. Super models are just normal people that were bitten by radioactive models.
Gas is so expensive, I can't even afford a sex drive anymore.
I can be spontaneous, given enough notice.
Weathermen don't have regretful one-night stands, they have overnight lows.
I support a gossip-free workplace but I heard that some of our co-workers don't.
Hi, my name is Jacob, but my friends call me "overbearing."
It feels like they make movies these days like Midwest winters: no color, cold characters, and lasting a lot longer than you want it to.
I love when movies based on a true story show pictures of the real people during the credits. It's like, "Here's the people you just watched, only uglier."
Taught my dog how to shake. Now we just need to get her to explain the gap in her resume.
He named it "The Lord of the Rings" when he COULD have named it "7 Hobbits of Highly Effective People."
Me: Can you tell me why I hate my sister?
Therapist: No, I'm a PHYSICAL therapist.
Me: Can you beat up my sister?
I don't know if my blood has a type. I've never let it date anyone.
Carrots are supposed to make your eyesight better but my blind neighbor still never sees them coming.
I knew I had to stop drinking when I couldn't hold my liquor anymore without spilling while changing lanes.
I write Star Trek: The Next Generation erotic fanfiction for a living. So, yeah, I work in Data Entry.
Being homeschooled is like going to Hogwarts: if you learned anything, it's magic.
Trying a yoga class is like an office job: strict dress code, a lot of circling back, and you're stuck in a position for an undetermined amount of time.
The Dad Joke is dead. Please welcome, the Papa Pun.
I asked the waiter for an American cheeseburger so he pulled out a rifle and shot my burger 15 times.
My coworkers are constantly badgering me about the family photos on my desk. I mean, WHO CARES how I got photos of your families, man.
I'm not addicted to caffeine, my boss is addicted to me staying awake at work.
Boy, are you serotonin because I just don't get you.
My insurance company gave me a blanket. It only covers about a third of my body.
I'm trying to stop comparing myself to others but it seems like everybody else is better at it.
I'm very serious about minimalism. I bought like 20 books about it.
I'm such a rule-follower, I lower my voice when I look through those Little Free Libraries.
This year's been so bad, my antidepressants tried to throw themselves down the drain.
*Tom Cruise on top* Oh boy, looks like we're doing Missionary Impossible.
I don't go thrift shopping, I go good will hunting.
I'm "eh" sexual, which means I'm only attracted to Canadians.
Why do they call them contractions and not birth quakes?
I'm a donkey and my pronouns are hee/haw.
What sounds do crickets make when another cricket's joke bombs?
"Yes, it will be the most popular fruit of all, but also it will be CRITICAL to Sex Ed classes around the world!"
—God, inventing bananas
None of these therapy dogs even have their degree.
Just For Men's "Touch of Gray" is honestly a lot worse than the other Fifty Shades books.
I read that a shark will lose almost 1,000 teeth a year. And I thought I was forgetful.
I'm sure whales have a very beautiful name for them, but to humans, they're called blowholes.
2020 has helped me understand the plot of Planet of the Apes better. I could see being so fed up with human leadership that you're like, "Maybe we give the monkeys a shot."
Tried to join a yoga class but even my schedule wasn't flexible enough.
Heard someone say that everyone picks their nose but I don't remember getting to choose mine.
My dad saw a sign that said "Drive Like Your Kids Live Here," so he sped up.