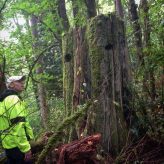 Bart King and Aaron Judd

Portland, Oregon/Somewhere, Abroad

As a middle-school teacher, Bart King was mentored on the finer points of comedy by 8th-grader Aaron Judd. The future PhD also pontificated on the finer points of the halberd, the svärdstav, and the Roman gladius. Today, the two are fast friends (but thanks to circuit training, Bart is faster). Aaron is at: thedoorwithoutakey.wordpress.com Bart is at: bartking.net.


Comedy Writing
Nothing Yet
Published work will show up here.