Sexual stimulation can come in many forms. Some people may enjoy anal play, some people may enjoy clitoral play, and some people may enjoy nipple play! Dual and triple stimulation may be the newest big thing for you if you have tried different forms of stimulation as well. When it comes to genital stimulation, sometimes, the more the better. This is why a triple stimulation dildo that stimulates the clitoris, vagina, and anus, can be one of the biggest innovations to come to your bedroom in 2022.
Over the last few years, sex toys have been rethought, redesigned, and amped up to become far more pleasurable and user friendly than in the past. Clitoral suckers, dual and triple stimulation dildos, remote controlled vibrators, and even sex machines have become easier to find and attain. 
So what is a triple stimulation vibrator?
Well, a triple stimulation sex toy is a dildo or vibrator that stimulates the clitoris, vagina, and anus, all at the same time! We often think of rabbit vibrators when thinking of dual stimulation toys. However, rabbit vibrators can also offer triple stimulation. There are many other forms of sex toys that offer this triple stimulation thrill as well!
What is so great about triple stimulation sex toys?
Many people have the most sensitive and pleasurable nerve endings in the clitoris, vagina, and anus. Being able to stimulate those all at once can lead to an intense and blended orgasm. These can be fun toys to use with your partner, or on your own. 
We know that clitoral stimulation can be a big driver to whether you successfully orgasm during intercourse—is it really any surprise that it may be the same with sex toys? Plus, the added stimulation of the anal nerve endings can lead to a toe curling orgasm that leaves you breathless and wanting more.  
Basically, using a triple stimulation vibrator can help provide the right type of stimulation to get you where you want to go. Plus, you never know what you may like until you actually give it a try.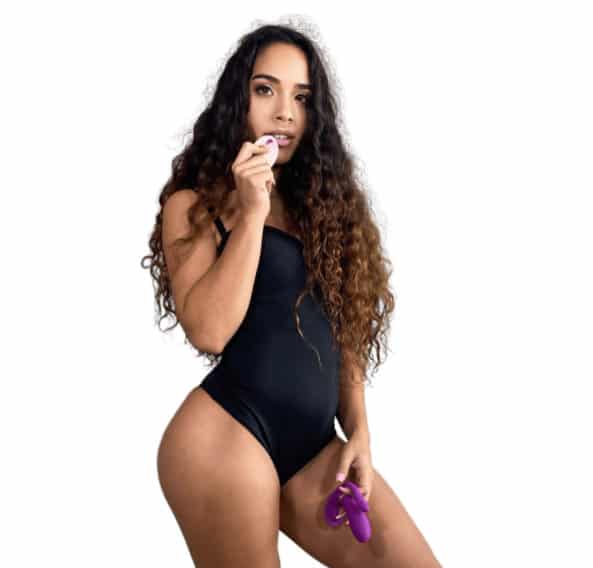 What sets it apart?
In addition to stimulating your clitoris, which has about eight thousand nerve endings and is one of the most sensitive areas that creates the most pleasurable feelings, the pressure and vibration that is provided to the vagina and anus helps to stimulate those nerve endings even more intensely. This level of intensity means that those who usually struggle to orgasm will likely find it easier than ever to achieve that ever elusive climax. In addition to all of that stimulation, you are also most likely going to be stimulation the G Spot and A Spot. 
All bodies are different, so triple stimulation toys may be too intense for some, but they are definitely worth trying if you haven't given them a go quite yet. If they are too intense for you, try dual stimulation toys instead.
What is the best way to use a triple vibrator?
A toy that has flexibility and length is important to look for. Typically, you'll need to be able to insert the vaginal piece first, and then you will want to maneuver the clitoral and anal stimulation portions in to place. Having a toy made of flexible silicone is very imperative for this mission, as otherwise it may not work for your body. 
You also want to be sure to use lubricant. Not only is it important to use lubricant for the anal portion, but lubricant can also help you feel even more pleasure in the vaginal stimulation area as well. Lubricant is typically not necessary in the clitoral stimulation area, but can be used if you so desire. Water based lubricants are usually the best option to use when working with a silicone sex toy. 
Most triple stimulation toys have individual controls for each motor and each piece of the toy. This means you can have vibration going for just one area, and not the others if you are not ready yet for the intensity. You could have intense vaginal vibration but no anal vibration, or vice versa. You could have anal and clitoral vibration, and no vaginal vibration. The possibilities are endless!
Always try the different functions before you insert it, and figure out how to easily turn it on and off so that you can take it out easily if you need to. This will help you judge the intensity levels, vibration patterns, and other features of the toy. It will also be a great way to learn how to control the individual motors.
Once you figure out the best way to enjoy stimulation from these toys, you'll never look back! Remember, triple stimulation vibrators are not for everyone; listen to your body and only use these if you enjoy them.
Related
Resources
---