T

he college days are the best time of your life to travel all over the world without any stress. It's the period in your life when you can easily get permission for your trip from your parents and also don't need to apply for any leaves to travel.

The trip becomes exciting, informative, and fun if you are travelling with your friends and for an educational reason. Today, when many college students have the opportunity to work as freelancers in some way or another along with their studies, they also can afford to go on a trip without having any sort of financial problems.

Practically, there are no barriers that you face when you are in college unless you have justified reasons to convince your parents.

According to a report, about 53 percent of the people who are aged between 18 to 34 travel during the Spring season. With over 126 percent increase in the statistics as per last year's data, it is expected about 82 percent of growth rate every year in the future when it comes to travelling to top destinations.

Travelling will definitely give you a chance to utilize your leisure time by exploring places. It also helps in creating memorable experiences and enhancing the quality of life to a significant extent.

Here are some of the best places where you can travel in your college days…
1. Ko Phi Phi, Thailand
Thailand is a hugely popular travel destination amongst the tourists and backpackers who wish to travel throughout the year.
The flight prices, as well as accommodation costs, are lower, which makes it even better for the colleges to opt for this place.
Although the cost of living in Thailand is much higher than expected, it's worth to invest your money in travelling to this place.
The best destination within Thailand to travel for college students is Ko Phi Phi that consists of many beaches and crystal-clear water bodies.
The presence of lush greenery and many mountainous terrains makes it an ideal location for the college students to travel during their summer breaks.
2. Caye Caulker, Belize
The small island located in the coastal region of Belize is filled with tropical flora and fauna along with the ocean holding incredible diving points.
You can make the most out of this city by spending time on the beaches or exploring its wildlife. If you want a budget-friendly location to travel, then this is the best place for you.
For students, there are many options to socialize and explore if you know how to plan your trip efficiently.
Besides this, you can also explore the opportunity to take advantage of the Belize Barrier Reef, which can make your trip more exciting and memorable.
3. Cusco, Peru
If you have studied about the Inca Empire that used to hold some incredible ancient ruins, then you would know about Cusco being the capital city of the empire.
This ancient city allows tourists to camp and hike in some beautiful places around it.
If you love studying history, then you also like to explore the Spanish settlements that were constructed when the area was conquered.
If you are planning a trip to Peru, then we recommend you to opt for American Airlines.
It offers some great deals for you if you choose to book the flights using American Airlines Credit Card. You can opt for discounts and invest the money that you have saved while booking the flights on your trip.
Moreover, for flight booking, one can visit Faremart which is a reliable platform that provides satisfactory air travel services to the seekers with 24*7/365 days support.
4. Coban, Guatemala
This city is for the nature lovers and who dreams of settling down in a beautiful place. When you are planning a trip to Coban, you cannot afford to miss the natural waterfalls and the breathtaking caves tucked within the luscious tropical forests.
It's just an ideal destination for the students who wish to explore the natural beauty of the world.
Besides this, if you are travelling within a strict planned budget, then nothing can stop you in adding this city in your bucket.
The presence of Las Victoria's National Park just enhances the beauty of the place to a significant extent by offering many hiking and trekking opportunities to the students.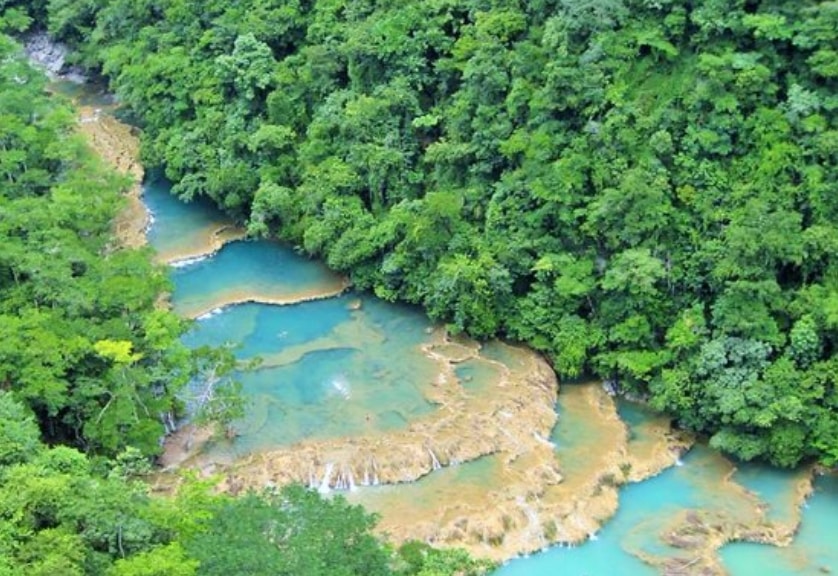 5. Budapest, Hungary
Most of your favorite movies and television series have been shot in Budapest. So, if you are a movie enthusiast, then planning a trip with your college friend is a must for you.
It is a popular destination for many tourists and is also known amongst the cheapest destinations to travel across the globe.
Budapest is technically a combination of two cities: (i) Buda, and (ii) Pest. The hotels and the cost of living in this place are cheap and affordable for a college going student who can plan their trips.
The convenience in the city is just incredible, while the nightlife in the city full of entertainment and life.
6. Havana, Cuba
Havana is known as one of the exotic destinations to travel and is also one of the best destinations to visit for all college students.
The culture, appearance, and lifestyle of the city inspires many travellers and hence is a recommended destination for the students who love to explore new places.
Ancient buildings, old cars, underscoring liveliness, and helping people make this destination unique and friendly for travellers who come from different places across the globe.
The nightlife and beaches present in this place just add beauty to this place.
7. Tamarindo, Costa Rica
Costa Rica is also known for its lower cost of living, and the extensions it offers to all the tourists. There are many places to visit within this city that takes you a step closer to the natural beauty of the world.
With beaches such as Playa Grande and the wildlife present in the place, just makes it an ideal location for all the students to visit.
8. San Blas, Panama
The city located on the coastal side of Panama that holds the entire city is also one of the exotic locations to travel. The city has many islands across the coastal side with many beautiful palm trees enhancing the beauty of this place.
If you want to observe the natural beauty of sunrise and sunset, then this is the place for you.
9. Kathmandu, Nepal
It's a budget-friendly location for all the travellers who wish to see the Himalayas once in their lives.
As a college student, you will enjoy the experience to visit one of the prominent places in the Asian Region and see some great architecture.
Apart from Mt. Everest, there are many other iconic peaks situated in the country which you should explore while visiting Nepal.
10. Bali, Indonesia
With a distinct lifestyle, culture, and some breathtaking sceneries, this place attracts a lot of tourists from different parts of the world every year.
If you love exploring high-quality life and nature, then this is the place that you should never miss to visit once in your life, and college days are just the accurate time to plan a travel trip to Bali.
Final Words
Now that you know what are the best places to travel within a planned budget, then what are you waiting for? Just pack your bags with all the necessary requirements that you need during your travel and begin your trip to some of the best places.
It's also equally important to take care of yourselves during your trip by eating healthy food and staying safe. So, plan your trip as soon as possible and execute it properly.
Join upcoming November classes in Satire Writing, Sketch Writing, and Stand-Up Joke Writing.