Gather round, ye puny mortals! For we are the eternal gods of future fantasy and forgotten fables, and we bring you tales of the Rapeocalypse!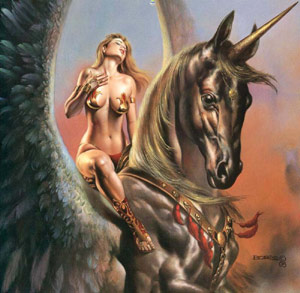 The Rapeocalypse!

Rapeocalypse!
Rapacca…Ra…What they said.
People of Earth! This is your forewarning of the trials and tribulations that shall come to pass. Hear our words, and know that all we say is wise and true. Take heed, or suffer the consequences. The consequences shall be dire. And rapey. So listen and listen well.

You heard what he said. Listen up when the gods are talking.
You will know when the Rapeocalypse comes if you look for the signs as foretold by the Astronomicon. There shall be four signs. No more and no less. Know them well if you value your pathetic life.
Was it four or five?
It was four.
I thought it was five.

Me too.
No, it was twelve, wasn't it?
Shut up, it was four.
---
The First Sign: Look to the Sky
Never again shall you see a beautiful blue sky or fluffy white clouds once the Rapeocalypse is upon you. The sky shall turn crimson. Confuse not pink nor orange nor rose nor tangerine nor vermillion nor lavender nor fuchsia for crimson, lest you be tricked by the rising and setting of the sun. The Rapeocalypse sky is deep red, like freshly drained blood. And the rain itself shall become blood.
And the clouds shall become dongs.
Dude.

Great big ones, veined and swollen, uncircumcised like the terrible venomous cock snakes of the Ancient Ones.
Duuude.
With balls. Made of big red clouds.
Dude!
What?
Awesome.

And boobies. Booby clouds.

The clouds in the sky shall become thickly engorged, and enraged like vengeful phallic serpents, throbbing in the air. And they shall rain down upon thee with the warm sticky flood of the Rapeocalypse for all of eternity until the end of time!

Fat chicks.
And the naked lady cloud people shall ride the red dong dragons as foretold in the Bible. Page, uh… four hundred and something. Dead sea scrolls. From the King Ricky version. Those are pretty rare. Sometimes you can find them on eBay.

Red gaping vaginas in the sky, weeping hot streaming tears of joy, soaking the land and drowning the crops.
Dude, that is seriously fucked up. I am so high right now, you have no idea.
---
The Second Sign: Look to the Past
Dude, you gotta let me do the second sign. It's my favorite.
No, you'll just fuck it up.
What if I talk all crazy Lord of the Rings doom guy like you? Like this: "And many many years ago there was a time which was far far away. And in that time there were many things that occurred. They occurred before and shall occur again as the past becomes the future and the future becomes the past and the present is no longer present, but omnipresent like Christmas presents."
See, this is what I'm talking about.

No, let him finish. I want to see where this is going.
And the people shall go back to the future in the purple rain, and there shall be much weird science as the nerds have their revenge against the flock of seagulls that walk like Egyptians while rocking the Kasbah from a land down under.
Just stop.
And Alf shall eat all the cats with silver spoons, for he is hungry like the wolf, so sayeth the facts of life. It was murder! she wrote as she whipped it good, into shape, like a virgin on a little China girl's Mexican radio that was turning Japanese, yes it was turning Japanese, I really think so.

Okay, that's going nowhere; I'll take this one. There shall come to pass a time when fashion repeats itself, and dead decades are reborn anew unto the youth. So shall the young seek out the strange saga of the 80's, but they shall not understand it, and the elders shall shun them for being born too late. And the children shall wear Iron Maiden shirts, but they shall wear them ironically, and the gods of metal shall be angered.
You know who I'd like to bang? Pat Benatar.
Somebody shut him up.

Tiffany. Definitely Tiffany. No wait, Dolly Parton.
Cyndi Lauper. Total freak.

And there shall be men from Beyond who dress in leather and spikes, with much hairspray and makeup. And they shall be convicted sex offenders from the post-apocalyptic wasteland of another dimension in a distant future, escaping from their prison planet and traveling back through time and space to fulfill their role in the prophecy of the Rapeocalypse. They shall travel in packs, flying pirate spaceships through pentagram portals. And they shall commit horrible atrocities across the land.
Like rape.
And murder.

And rape. And they shall gaze upon the youth of 2012 and mistake them for children of the 80's, but rebooted. They will gaze upon girls with lopsided hairstyles and tight leggings and neon bracelets and they shall be aroused by their bold displays of exposed shoulder flesh. And they shall lust without mercy, and there shall be epic guitar solos.

I like big butts.
Is he slow or just high?
Dude, Hall and Oates. Do the Hall and Oates part.

I was getting to that. And while the space marauders rape and ravage the cities, the ones called Hall and Oates shall awaken from their slumber, and they shall perform the ritual to summon the Maneater. And the Maneater shall go forth and destroy the men, so that only a few remain, but must stay hidden for fear of being raped to death and eaten. And the Maneater shall serve Hall and Oates, for Hall is a powerful warlock, and Oates is an ancient shapeshifter demon. And they shall have all the pussy, because the Maneater shall eat all the men except for the chosen few. And Hall and Oates will swoon the ladies with beautiful music, and the remaining men shall hate them.
And Oates turns into a dragon.

Hall and Oates shall take a hundred identically dressed hot girls and put them on a spaceship to Venus, and they shall all leave the Earth in ruins in order to settle a bet with Robert Palmer.

The dude from Zepplin?
No. Please stop talking.
---
The Third Sign: Lesbian Sex Magic is Everywhere
So then, like, all the dudes are dead and it's just all chicks left and they form these, like, Amazon dominatrix tribes, which is totally hot. But the dudes aren't completely gone because they still keep some as prisoners in a sex dungeon so the chicks can be all like, dude, you gotta get me preggo, and the dude's like, sweet.

Sweet.
And Sarah Palin and Hillary Clinton and Michele Bachmann shall take over the world and form the Great Lesbian War Council, because they're all like, fuck this, girl power! And Janet Reno is all like, I wanna hang out with you guys, but they're all like, no way bitch, you're too fugly. And they shall declare war on everyone and make all the hot girls cage fight each other with dildos while wearing nothing but chain mail bikinis. And they shall make this big speech like, For too long have the women been treated as mindless sex objects and forced to shake their butts for the entertainment of men. From now on, they will shake their butts for the entertainment of women! But they're also witches now because of the end of patriarchal whatever and they cast a spell to open up the gates to the fairy realm and there shall be, like, unicorns and shit.
Nice.
I don't wanna sound like a queer or nothin', but I think unicorns are kickass.
Dude. Unicorn porn.

I'd watch it.
So there's like fairy shit everywhere like trolls and dragons and midgets and strippers, and everybody gets a big ass sword.

Sweet.
---
The Fourth Sign: Abandon All Ye Pants
So then, Rodriguez the muscular man-slave is trapped in the sweaty dungeon where he is forced to do nothing but oil himself up and lift weights all day long, then bathe, then reapply oil, then lift weights again until he falls asleep, nude, with all the other sweaty slaves, also nude. Because pants were outlawed forever.
Who the fuck is this guy?
I have no idea.
But Rodriguez escapes! Hurray! He runs away from the smelly old sex dungeon to fight dinosaurs with a young boy in a loin cloth as they travel the majestic landscape in search of bold, sweaty, manly adventure. And sometimes they save damsels in distress, but they're not really into that. It's just a thing they do sometimes to spice up their adventures. The damsels offer themselves to Rodriguez and his taut young sidekick, but they're all like, bitch please, you need to change that tired ass little jungle cat halter top, you ain't Tarzan's wife. And where did you find those shoes?

Are there dinosaurs now? I missed that part.
Oh man, I hope there's monkeys. Dude, monkey knife fight!
Hell yeah! I fucking love those!

What are you guys talking about?

The Rapeocalypse.
…

…
…

…
…
Hey.
I should leave.
Damn. She had a nice rack.
Anyway, that pretty much sums up the Rapeocalypse. Now that you know the four signs, you shall be prepared. And apparently there will be dinosaurs, so keep an eye out for that.
You forgot about the fifth sign. Me.
Told you it was five.

I just pooped.
Author's note: All artwork contained in this article is by Boris Vallejo. Boris Vallejo is not affiliated with nor does he endorse the Rapeocalypse in any way. Please buy his prints and paintings so he doesn't sue me and kick my ass. Seriously, the dude is huge. He fights bulls with his bare hands.
See the rules and more entries for "The Rapeocalypse: Official PIC Contest" here!
Join upcoming November classes in Satire Writing, Sketch Writing, and Stand-Up Joke Writing.