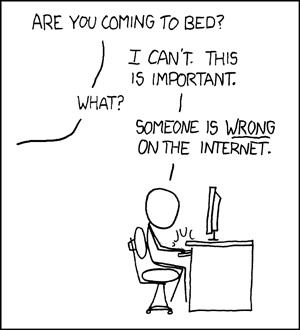 It's bait.
We're being baited, it has to be a grab for pageviews, that ticking little scroll of internet legitimacy. In a way, it kind sucks that readership is the number one commodity of the internet, because it leads to people posting blatantly stupid things like this in hopes of getting attention.
I could have just left a comment on the post, I suppose, but this is so torrentially wrong AND self-satisfied that it deserves its own post. Congratulations, "Femonade" you've joined the big time.
Sorry, Men and Fun-Fems: All Porn is Rape, All the Time (Or, If You are Watching Porn, You are Watching Rape)
This is the title. All Porn is rape. Is the title. That is the central thesis of this post.
Not "all mainstream big-studio porn" is rape. Not, "all male-female porn" is rape. Not, "those videos that Paul Frank asked me never to ever bring up on my blog" are rape.
All porn.
Absolutes are fun, aren't they? Under her definition, if I film myself jerking off, yelling "THIS IS WHAT I WANT FOR MY LIFE", upload to xtube and link it on my facebook for everybody to see (again), I'm a rapist. Or a rape victim.
Now, normally, of course, that would be a ridiculous pro-porn argument. I'd be creating a straw-man: nideos of me masturbating loudly account for less than 5% of all internet pornography. But by couching her argument in ridiculous shrieking absolutes, the blogger essentially invites anyone with a modicum of imagination to make her point look incredibly stupid.
And I don't know much about debate, but I know that's generally frowned upon.
Nonetheless. I'll be charitable, and go past the headline. Lets see what the post actually consists of. It's somewhat long, so I've excerpted. I don't think I'm taking anything out of context. The lack of capitalizations are all [sic].
not unimportantly, i was afraid of a radical feminist analysis, and what that would mean for me, should i decide i was anti-porn, as a young female, a sister and daughter (of white men), as a heterosexual, and most recently, as a professional in a male-dominated field. instinctively and intellectually i knew that coming down on the side of anti-porn would cause a problem for me.
I quote this not because I think any of it is wrong, per se, but rather to give a bit of background. I have no problem with anybody being anti-porn — I think a lot of the realities when it comes to filming and distributing mass-marked male-centric porn are terrible. I also realize that because porn is largely marketed towards straight men, it can be a difficult thing to criticize without fear of being labeled. So, not a terrible lede! Lets keep going.
i am not a fucking idiot, afterall.
And the surprising streak of non-wrongness is snapped.
i wrongly believed that my ambivalent feelings were somehow neutral, and unaffected by the culture i lived in-a culture that fully embraces not just porn but rape, too.
That this is slipped in unassumingly is astounding. I'll admit to not being a daily reader, but to casually imply that your culture embraces rape without at least a cursory attempt at proof, and then to use that as a foundation for an argument is mind-boggling. I don't want to get bogged down in semantical arguments here, because it's not really the thrust of the piece, but seemingly counterfactual.
we literally cannot trust our own feelings on this issue, although our feelings are not completely irrelevant.
I like the "literally" thrown in there for emphasis. Pro-tip: Literally doesn't mean "surprisingly." I could be wrong though: there could be a huge difference between "literally trusting feelings" and "figuratively trusting feelings." I'm also a huge fan of the not-so-subtle condescension: you make think you know how you feel about this issue, but you were too busy trusting your feelings to come to the truth like I have.
rape-culture
Neither here nor there, but "rape culture" is a hazily-defined and nebulous term that can so loosely by applied to such a wide variety of things that using it earnestly is utterly meaningless.
firstly, and problematically, in porn, consent is a non-issue. if its considered at all, its presumed. for the porn-consumer, the question of consent never even comes up: a woman's very presence on film acts as her consent as far as hes concerned.
Her already stupid argument takes a turn for the shifty here. It's unclear whether the onus of rape lies on the consumer, the producer, the actor or all of the above.
If it's the consumer, they have every reason to believe that consent is implied. It's the basis of producing anything, from staging Shakespeare to Gang Bangers III. Are consumers supposed to question whether grand theft auto, assault and tresspassing have been committed every time they watch an action movie? There are legimate concerns about the well-being of pornographic actresses (and actors!), but it sounds here like she barely has a conception of object permanence.
Alright, I know you have short attention spans here, so I'll continue with this tomorrow. And actually get into the good (and by that I mean truly terrible) portion of the post.
Follow Points in Case on Twitter.

Join The Second City writing classes on satire, sketch, and TV - 10% off with code PIC.

Check out events at The Satire and Humor Festival in NYC March 22-24.