Who needs a bunch of Mayan book-keepers who've been dead for 5000 years, or Harold Camping (the Californian wingnut preacher who has been *brain*dead for 5000 years) telling us when the world's going to end? And what makes them think it's going to be all volcanoes, zombies and wormwood?! Those of us REALLY know the score are aware the signs are less 7-Headed Dragons, and more double-headed dildos, and who has time to notice flaming wood falling from the sky and zombies eating people when there's body fluids and KY flying around like an Al-Qaeda attack at the Playboy Mansion? So, torn screaming from the delicious hypothalamus of Andrei Trostel, here's the portents and omens to look for when the Patron Saint of Polyamorous Perversity takes the (undoubtedly latex) Seal off of the Rapeocalypse…
1. GROUNDHOG EMERGES FROM BURROW, SEES SHADOW, SODOMIZES RICK SANTORUM ON LAP OF LINCOLN MEMORIAL
Washington, earlier today– Widespread panic gripped those members of the Tea Party movement capable of intellectual reasoning beyond the Stimulus-Response reflex, as the half negro, Muslim-raised, health-care reforming President of the United States lent his approval to Gay marriage. Within moments of the Commander-in-Chief's pro- GLBT pronouncement, society broke down completely. Subsequent trials and tribulations visited on Washington (swiftly re-named "Martha's Sin-Yard") included:
• The 4 Horsemen of the Rapeocalypse- Rohypnol, GHB, Tequila and Paul Frank- descend on DC and start violating every orifice in sight. After several hours, the Horsemen are reduced to 3, as Paul Frank, disappointed by the city's lack of petting zoos, declares the Rapeocalypse "too vanilla" and gets a job as a fluffer for closeted Scientologists instead.
• Satan announces upcoming reality show in which he marries Kim Kardashian. All aspects of the show, from the engagement through to exchange of vows, will be fabricated then presented as "live and unscripted", due to the intimate involvement of the Prince of Lies in the show's script-writing. And as well as Kardashian, Satan will also be allowed to ghost-write a few episodes.
• Justin Bieber revealed as human guise of Elder God Nyarlathotep. No-one surprised.
• Pineapples become currency (Pinecones in Canada).
• Hardcore TWILIGHT tweens forced to watch Edward Cullen make out with Jacob Black for eternity, whilst Bella Swan repeatedly buggered by jackals.
• Cthulhu rises from millennia-long slumber in Pacific, devours Obama, runs for Presidency. Loses primary to Hillary Clinton when cannot produce birth certificate proving R'lyeh is in America waters.
• McDonald's 'Chicken Nuggets' revealed to have been human flesh all along. No-one surprised.
2. POPE DECLARES "PAEDOPOLOOZA" OPEN
-Pope Nazinger the Umpteenth issued a surprisingly blunt Papal Edict this afternoon. "This whole Vatican thing is a big crock of Holy Shit. We're in it for the Child Abuse" he told the assembled reporters. "Who the hell seriously believes some woman made out of a McRib was tempted to eat a Red Delicious by a talking cobra? We just like fucking that sweet under-aged poontang. Then we blame it on the Gays. We're evil like that."
The 85-year old Pontiff briefly turned from his podium, unhinged his jaws and devoured an entire sheep, before demanding of his cardinals that six new altar-boys "oiled in the usual manner" be delivered to his personal quarters immediately, as he'd "worn the latest batch out".He also expressed his desire to get some new white Reeboks, as he'd ruined his latest pair when one of them became lodged in the rectum of one of his young conquests and he'd had to leave it there in order to remove his foot.
"Shame really; Altar boys are a Euro a fucking dozen, but quality footwear is becoming increasingly rare in this day and age, more's the pity. If this whole 'Miracles' thing was real, I could just wish for some new shoes that weren't tainted with the panicked bowel evacuations of my latest pre-pubescent victims shrieking like angelic castrati as I force my Octogenarian prong up their nether-regions, but get real. I might as well ask Harry Potter to bring me a Firebolt for Christmas." 
A reporter for Italy's top-selling newspaper La Repubblica asked if this meant that he had actually read the series of books about the boy wizard that the Pontiff had previously personally declared evil and a gateway to Satanism. His Holiness immediately ordered the reporter flayed alive by a team of nuns, who fashioned the journalist's tanned hide into a cap that the venerable spiritual leader wore whilst swimming laps through the bricks of stolen Jewish gold in the vaults of the Vatican bank later that evening.
3. GEORGE LUCAS TAKES SITH NAME, 'DARTH RETCON'
-And then did the Angel look down from the Dagobah System and open the Sixth Seal, and play a blast on a trumpet the size of a Wamp Rat, not much larger than two cubits. And George Lucas' demon, a most foul creature that emergeth from his goitre at night to drink the tears of frustrated sci-fi fans, did crawl forth once more, cackling. And lo did Lucas release unto the world a new chapter in the STAR WARS trilogy, and the old school fans did cry tears like unto blood, and begged him to not rape their childhoods any further. But Lucas' heart was as hard as carbonite, and he did release the new chapter anyway.
Yeah, the film was a great travesty in the eyes of the Righteous, containing even more Gungans than Phantom Menace, including the Dark One, Jar-Jar. And the Ewoks did also appear, and Midichlorians most baffling. And so also did Darth Rectcon include in all prints of the movie a retrovirus that made all fans not only forget all knowledge of the good and decent original Holy Trilogy, but made them return home and run their un-remastered copies of Episodes 4-6 through the garbage disposal. And from thenceforth, only Episodes 1-3 were known by man, and there was much wailing and gnashing of teeth, as of millions of nerds crying out in anguish and suddenly saying fuck it and switching to Marvel Comic movie adaptations instead.
4. DOLPHINS TIRE OF RAPING PORPOISES AND OCCASIONAL SWIMMER, EVOLVE INTO LAND ANIMALS, RAPE PEDESTRIANS. 
 *Flipper convicted of digital penetration.
*Gary Busey takes to sea on jetski loaded with TNT, screaming "You're not getting your fins on my freshly-bleached colon, you bottle-nosed assholes! POINT BREAK! POIIIIIINT BREAAAAAK!" blows up Miami Dolphins by mistake.
*  Seals and Pilot Whales declare themselves Neutral, move to waters off Switzerland, Orcas, however get rapey too; Blame "One too many FREE WILLY sequels"
*  Rape Whistles no help; Merely make dolphins balance ball on snout during sex, expect fish afterwards.
* "Nuke the Gay Whales" becomes government's actual viable retaliatory decision.
* Japan tries to not look too smug, "just happens" to have robotic dolphin sex decoy in development for last 10 years.
"Hello ma'am! Would you mind opening the door so we can discuss how you prepared for the Rapeocalypse?!"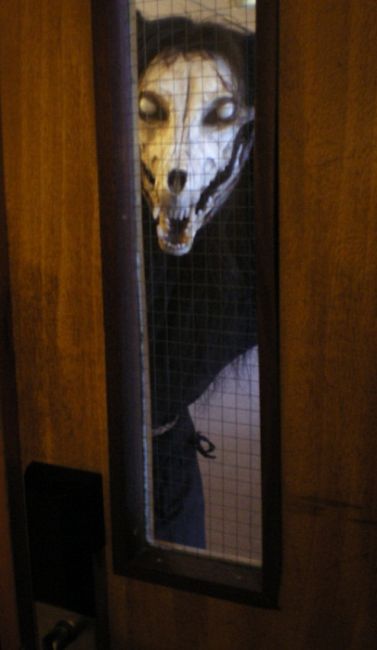 See the rules and more entries for "The Rapeocalypse: Official PIC Contest" here!
Interested in making comedy your career? Scott Dikkers, founder of TheOnion.com, created Comedy Business School to teach you how the industry works and how to succeed in it.