When the rape apocalypse comes, you will know. You will not need an article to tell you its signs. But I like writing about rape. A lot. And the rapeocalypse is the moment I have been waiting my whole life for because it combines the two best things I could ask for in life: justified rape, and death.
Andrei Trostel is so sick and twisted that he doesn't get off by any normal sexual practices, any fucked-up sexual deviances or fetishes, or any kind of internet trolling. He apparently only gets off by getting writers to write comedy articles based on a theme. And, not going to lie, every time I saw that original article title, I also read it as "RAPEocalypse." So Andrei is right, and what you hear right now is the sound of one man fapping.
So, to bring Andrei Trostel to that elusive orgasm, I present to you the "4 Signs of the Rapeocalypse":
4. Rapin'
Just good ol' fashioned put yer aunt in the basement cause Burger King is out of staplers, call up the neighbors and mow the lawn rapin'. The kind your grandpa dreamed about. Wet dreamed about. And that's how you were born.
We're talkin' put Kate Upton in the shed and just go to town on her, unleashing your every sexual fantasy upon her. But most likely cumming within seconds and not getting to do any of that stuff. Because Kate Upton is an angel and I would like to put my penis in her more than almost anything. And then talk about her feelings.
3. Apocalypsin'
Ain't none of us'all actually seen no apocalypse so ain't none of us know what it done look like, but one thing is fo sho: we will don Southern accents that are possibly also black.
The end of the world. Super fun shit. No more awkward 4-way stops. No more awkward black-people-on-the-street-asking-you-for-money-through-contrived-sob-stories. No more awkward celebrities-making-joke-tweets-and-then-everyone-flips-out-and-is-offended-and-the-celebrity-apologizes-repeat-until-out-of-celebrities. No more awkward people-reading-tweets-on-the-air-for-some-reason-and-making-sure-to-say-the-word-"tweet"-and-"tweeted"-as-many-times-as-possible-and-saying-the-word-"at"-in-front-of-their-usernames-instead-of-just-saying-their-fucking-username-we-already-know-it'[email protected]ucking-pricks.
2. Widespread chaos and looting of vaginas and buttholes
You don't loot electronics stores when you're going to die. You loot the vagina of that girl from your apartment who's too good for you with all her stupid cool friends and her stupid not making the first move and her stupid hotness. You plunder buttholes like there's no tomorrow.
1. I am having sex with Ashley Garmany
You know if I am having sex with Ashley Garmany it can only mean one thing: The Rape-Apocalypse. That or bitch came to her senses.
On a beach, on a warm summer's day, people are sunbathing, playing, running, swimming… Children are frollicking.
Suddenly, in the distance there is a brief scream.
I rise to my feet, knocking over my cooler of pre-roofied Miller High Life. "Oh my God! Somebody's getting raped! IT'S THE RAPEOCALYPSE!!!!" I scream so everyone on the beach can hear me. "IT'S THE GODDAMN MOTHERFUCKING RAPEOCALYPSE YOU PIECES OF FUCKING SHIT! THIS IS WHAT JESUS WAS TALKING ABOUT! RAPE!" I am so excited and scared that my brain is running around in circles. Fuck, I'M running around in circles, grabbing titties, putting fingers in pussies, sticking my tongue in buttholes, screaming "JESUS! RAPE! YOU GUYS!"
"HE FORETOLD THIS WHEN HE WAS FORETELLING ABOUT THINGS," I say, my foot deep inside a stranger's butthole. I am running around the beach, everything a blur. I swear sometimes my penis is in two vaginas at once. I am just going nuts. This is how I will die, and I couldn't be happier. I'm just wondering how much time is left. Nothin' worse than an apocalypse that just drags on.
"RUN FOR YOUR MEANINGLESS FUCKING LIVES YOU CUNTS! NO DON'T RUN AWAY FROM ME JUST RUN! WHY AREN'T YOU RUNNING?! YOU'RE IN A WHEELCHAIR? WHAT THE FUCK ARE YOU DOING AT THE BEACH NO OFFENSE? THAT'S IT, YOU'RE GETTING RAPED. RAPEOCALYPSE 2012 YOU DICKFUCK! YOU'RE GONNA BE WHEELING CROOKED FOR WEEKS AFTER I'M THROUGH WITH YOU! THAT IS, IF THE WORLD WASN'T ENDING WITHIN THE HOUR AS IT WAS PROPHESIZED IN THE BIBLE, CUNTGOOK!"
I rip the shredded condom off my dick and get down on my knees, putting my hands together. "Oh, Lord, you know I've been a good leaker! I have followed everything in the Bible to a T every single day of my life and have never strayed from you. Please accept me into Heaven, Father. I mean, Dad. I mean…can I call you Terry? Are we bros, God? Let's knuck it out, bruh. Bruh? God? Mary? Is anybody listening?! HEY SOMEBODY FUCKING WAKE JESUS UP THAT NIGGA IS SLEEPING THROUGH THE RAPEOCALYPSE OR WHAT?
"But like I was saying….I have lived a perfect life. I have spent every second serving you and preaching the Good Word, oh God. Oh God…Oh God…Oh God yes….OH GOD!"
I realize I am about to blow my load, mid-prayer. Now, I've been blown in about every possible situation, environment, position, and scenario you can think of. But I have never been blown while praying.
I look down and Ashley Garmany is deep-throating my erect, large black penis.
"Get out of here, Garmany! Don't you realize I can have any woman now? I'm not wasting my jizz on you! This is the Rapeocalypse, for fuck's sake! Shoo, woman! Git!"
She gits.
"AS I WAS SAYING, before I was so rudely interrupted," I pause, roll my eyes, and look over in Ashley's direction in case God doesn't know what I'm referring to, "I am your disciple and my life has been one never-ending crucifixion. The day you have prophesized has come to fruition. I have come to fruition. On many, many people. So, take me now, God, or Jesus, whoever's listening, I never really know who to pray to exactly, it's kind of awkward, but I'm over it. It's whatever. TL;DR take me to Heaven so I take away Mary's virginity. And fuck all the angels. And fuck lots of hot dead chicks."
No response. Not even a text back.
I get off my knees. "You're a dick, God. A reaaaaallll fuckin' DICK."
I look around me, pondering whether to tell everyone that this is not the rapeocalypse, that it was a good drill nevertheless and pressing charges will not be necessary; or whether I should just jump right back in. You don't get a lot of rapeocalypses in your lifetime, and thus you should treasure every one.
My eyes scan the beach. Everywhere I look, people ripping their clothes off, screaming bloody murder, giving and receiving STD's, eating each other's buttholes out with a violent, urgent passion I have rarely seen before, begging God to spare their souls, forming bukkake circles with waiting lines. It's exactly like the Mayans said it would be. And it is beautiful.
But sooner or later these people are going to realize this isn't what they think it is and that they've just committed a ton of unthinkable felonies. Oh well, I did the same thing at Y2K. Started a massive rape/end of world/orgy thing. You just move on. Tomorrow's a new day.
I see someone selling a #Rapeocalypse 2012 t-shirt. Oh my God. Rapeocalypse sold out. It's even a trending topic on Twitter. I don't mean to be a Rapeocalypse hipster, but I was into raping and apocalypses before they were cool.
I feel a vibrating in my pants. Could it be Ashley Garmany with a vibrator? Please do be.
Nope, it's a text. "BRO..sorry i didnt get back 2 u..not the rapeocalypse..dont think i can get u into heven but ill ask my pops what r udoin tonite." Stupid Jesus.
Stupid hashtags.
Stupid Ashley Garmany.
Stupid everything.
"HASHTAG RAPEOCALYPSE IS NOT OKAY! DON'T INSTAGRAM THIS!!! DON'T YOU GUYS REALIZE WE'RE DYING RIGHT NOW??? WHY ARE YOU VIDEOING THIS? WHY AM I WEARING A CONDOM? WE'RE GOING TO BE DEAD IN SECONDS YOU GUYS!!" I scream, running back into the chaotic, (now) nude beach.
I rip off the clothes of the nearest college girl I see. "Hi, my name's Julian Asange, I'll be raping you today!"
I beat my shirtless chest and scream-roar into the sky. "RAAAAPPPPPPEEEEOOCCCAAAALLLLYYYPPPPSSSEEEE!"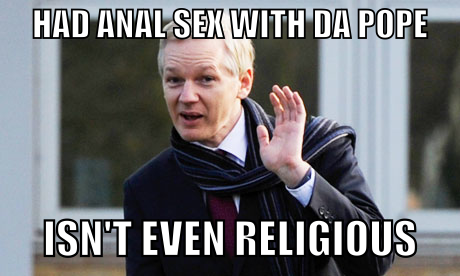 See the rules and more entries for "The Rapeocalypse: Official PIC Contest" here!
Join upcoming November classes in Satire Writing, Sketch Writing, and Stand-Up Joke Writing.