This is the insignificant story of a very insignificant whore that I once allowed to suck me off. This girl despises me because I let her come over one day, right before a job interview, and drown my potential children in her throat within the first 15 minutes of showing up. Oh wait, I think she actually hates me because drunk as shit me let her come over again late night so she could suck me off again, and then I had to kick her out after she insisted we have sex. (She's just a mouth to me.)
The following are actual texts between us:
Whore: "Heyy"
Me: "Who is this?"
Whore: "[Insert name and penis here] lolz"
Drunk Me: "Come over"
Disgusting Slut: "Nahh, I'm showering then going to work"
Blacked Out Me: "You can shower here, you're missing out"
STD Lady of the Night: "You're the one that kicked me out at three in the morning when you knew I didn't have a ride home"
Me: "Whatever"
I wrote that last bit before I actually read though our texts so I guess she actually still wanted my dick in her stomach even after I blatantly disrespected the shit out of her by refusing to have sex because I was on my "man period, and didn't want to get pregnant."
So once again when I wanted to get a nut off late at night, and all respectable girls were gone, I hit her up at 2am after a party.
Blacked Out Me: "I'm at Drew's, let's chill"
Slut: "Wheree"
Me: "My house, come pick me up"
Hypocritical Woman: "I'm not driving drunk…"
Hammered Andrew: "Lol ok"
Whore: "Do not be rude"
Me: "Shut up"
I got on Twitter and subtweeted about her.
Bitch: "I feel so famous when someone tweets about me"
Andrew: "Wait, who is this again? I never saved your number because you're a disgusting slut and wanted to make it a lot harder for me to call you when I'm drunk. You know I don't love these hoes"
Stupid Skank: "Lol you're more of a hoe than any girl you booty call so I'd choose my words carefully"
Me: "You think I give a shit what you think? Think about it; all you are to me is 301-***-0124"
Now that I had publically humiliated her via social media, she really, really did not like me. A couple nights went by when I was incoherently intoxicated and I texted her a simple, "What're you doing." No response. Wow, I must of really irked this whore if she didn't want my cum on her face anymore.
So last night we ended up at the same party and as soon as I made my celebrity appearance I could hear her talking shit about me. She was in the corner talking to herself, saying things like, "God I fucking hate you," and "Fuck you." I decided I should go say hi to her to start some drama.
Tipsy Andrew: "HEY!"
Bitch: "Don't talk to me, I like actually hate you. No like I HATE you."
Me: "Oh, well that's not very nice."
I walked away.
Later…
Unfortunately Someone's Daughter: "Oh my god, it like smells in here"
Slightly Drunk Me: "Maybe you should close your mouth, and you're legs, you disgusting whore."
No response.
I ridiculed her all night at every chance I got.
When she was walked towards the door and said goodbye to everyone (except me) I said: "Finally."
No response.
Drunk as Shit Me: "I hope you get in a serious car accident on the way home and die an agonizingly painful death in a ball of fire."
She finally left.
One of my friends was pissed that she didn't hook up with him or something and started texting her mean shit. I asked if I could partake. He gave me his phone and this is what I wrote: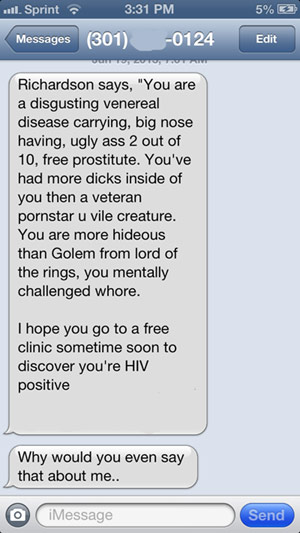 I don't think you can come back from that, so I guess I win.
Get our newsletter for new comedy. Join satire writing classes at The Second City!