Wipe That Smile Off Sammy Sportface
By Sammy Sportface
Sammy Sportface is possibly America's best sports blogger. He is mostly mysterious and only mildly interested in the truth. This tome is a scattershot compilation of sports and everyday life humor essays, including an eclectic set of storylines such as Bruce Caitlyn Jenner's sixth grade essay, Cleanthony Chadrack Lufile Ochocinco Sportface, and a talking Triple Crown winner.
Who is Sammy Sportface and why should you read this book if so much of what he writes strains credulity and, in many cases, may be outright lies?
Don't overthink this. Embrace change. Caress your confusions. See beyond yourself. When you've decided this guy has no legitimate reason to be happy, go ahead, wipe that smile off Sammy Sportface. If you can't find Sammy Sportface, he's out to lunch sitting in the parking lot at McDonalds in his low-end tan sedan. There he consumes a Bic-Mac and plenty of other foods. Satiated, he then reinjects himself into his ebook.
Buy It: Amazon.com
---
Quietly, From Afar: A Dark-Comedy Cartoon-Western
By Lucas Gardner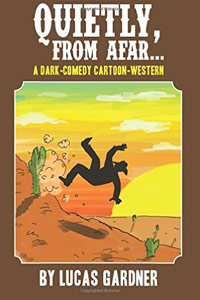 Fed up with his dead-end job at the slaughterhouse, our "hero"—later dubbed "Mayor Pistolface—decides to take a stab at living the life of the American cowboy. Equipped with no more than a secondhand pistol, a bag full of loose hot dogs and an asthmatic horse with a waning will to live, Mayor Pistolface ventures off into the unforgiving Wild West to fight his way up the ranks to become cowboy legend, but his romantic notions of what it means to be a cowboy are quickly dissolved. In the Wild West, where tourists are eaten alive and wicked men prosper, there's no place for romance. Quietly, From Afar is the comic tale of insatiable greed and megalomania in the barren desert wastelands of the distant West.
Buy It: Amazon.com
---
Half Dollar Rebel: Annals of Hard-Boiled Determination and Dogged Misanthropy
By James Parkinson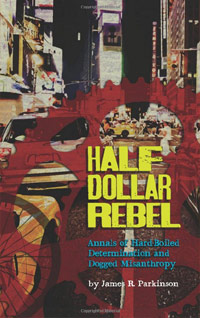 Unemployed, depressed, and ten thousand dollars in debt, one fed-up comedian moves from the Pacific Northwest to outer-borough New York City. His résumé reads like the ingredient list on a pack of Marlboros, his video-game addiction is rivaled only by that of his cell phone, and he fires his therapist in favor of a ten-speed bicycle. He knows a life well-lived is one that costs some skin; through dating disasters, employment mishaps, tested friendships, financial upheaval, dieting backslides, Occupy protests, gay marriage disputes, and opening days of comic-book blockbusters, he may not exactly be on the verge of putting it all back together, but he's well on his way to discovering the existential glue that will.
This debut collection of narrative nonfiction essays from a noteworthy new talent is gritty and dark, yet quirky and eccentric, with pitch-perfect metaphors aplenty and a nearly Sisyphean humor derived from both inner and environmental struggle. Boasting a fresh, comedic-noir style, these are the trench-warfare tales of every tenacious, heartsick, alienated dude who just wants break through the irony-saturated din and find meaning on the other side.
Buy It: Amazon.com
---
Jack's Inferno: Volume One
By Mike Lamb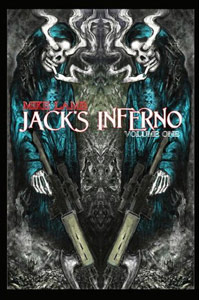 Jack is a perfectly normal man. He drinks, swears, smokes and has gratuitously casual sex whenever possible. You get one guess where he goes when Death comes knocking with a sniper rifle and hell-powered Cadillac.
Join Jack on a drunken tour of Hell, where hedonism and horror are lurking down every dark alley. From Judas freaks to suburban cults and beyond, this book will have you alternately laughing and cringing in every chapter.
In a world full of books about wizards, private detectives, and crime fighting vampire ninjas, isn't it time we had a hero that just flat out doesn't give a shit about righting wrongs and saving the world? That hero is Jack, and he's been drinking all day. Jack's Inferno. Because even scumbags need role models.
Buy It: WritersCafe.org
---
The Snippets and the Impure Tour
By Nathan DeGraaf, with a foreword by Court Sullivan
A fascinating tour of sex, booze, drugs, and debauchery, complete with witty banter.
Review: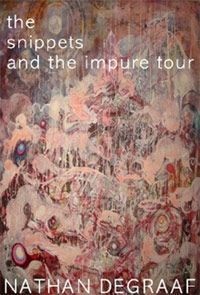 If I had kids Nathan DeGraaf's age, I wouldn't let them hang out with him. He's a degenerate whose hedonism seems to consume him and all those around him. I'm sure anyone around him is destined for all sorts of misadventures, dealings with characters of questionable repute, and haberdashery. Thankfully, though, we can now all let our hypothetical children get their Nate fix from a safe distance.
The Snippets and the Impure Tour does a couple of things, and it does them damn well. First, as you may have guessed from the title, are snippets. For every time you're out with your friends and someone says something hilarious that's forgotten minutes later, Nate is lurking in some bushes (or on a barstool) somewhere, writing down his interactions. It's like watching a replay of your favorite football game with everything cut out except for interceptions, touchdown passes, and the quarterback drunkenly flirting with his cheerleaders.
Second, the "Impure Tour" bit, consists of Nate getting drunk and high and wandering around Grateful Dead shows. If you're a member of the key 18-25 demographic, you've probably already bought the book based on that sentence, but if not, read on. This is a tale with some of the most interesting characters you're likely to encounter, a plot that stops for no one (except for the chapters of snippets in the middle), and a writer who clearly has no lack of passion, skill, and stories that make every red blooded American male jealous. Also, all of his friends have really cool nicknames. And there's cool drug lingo.
Seriously, just buy the book. If you don't like it, I won't refund your money, but I'll feel really bad.
Buy It: Lulu.com
---
The Imbible: Drinking Games for Times You'll Never Remember with Friends You'll Never Forget
By Alex Bash
The definitive guide to drinking games, both new and classic, plus boob jokes.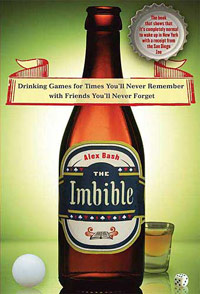 The Imbible is the definitive guide to drinking games by Alex Bash, a recent college graduate, therefore an authority on the subject.
What do you do when you wake up in an unfamiliar neighborhood hand-cuffed to a fire hydrant, clothed in nothing but socks and pink nail polish, your hand clutching a stained legal document…written in French? Celebrate! You just had a great night! And to think—it all started with The Imbible.
This book contains all the drinking game classics, from Quarters to Kings, to today's newest, coolest, and most debauched drinking games, including Beer Roulette and The Lord of the Rings drinking game (every time a character draws a sword more slowly and cinematic than is pragmatic to do in the heat of the battle, drink). Containing original illustrations and more boob jokes than is necessary, this will truly be the bible of drinking games.
Buy It: Amazon | Barnes and Noble | Borders