I'm usually under investigation by the feds at any given time, though if I had to pin down a specific reason I'm not sure I could give you one. Apparently the government isn't too big on the civil rights of drug addicted conspiracy theorist vagrants.
Special Agent Diego was all over my case again. He's had it out for me for years. He was more drunk than usual and I didn't much care for the racial slurs. Eventually he stopped hitting me and we reached an agreement: he wouldn't hook me up to a car battery and force me to sing the national anthem while covered in bees if I got him laid. Apparently his wife had just left him and he was taking it pretty hard.
I decided to take him to the KFC on the shady side of town because all the employees there were part time sex slaves. It was part of their indentured servitude contract with the Colonel and a strict requirement of their employment. The Colonel was a sick fucker, but he loved chicken like nobody's business, and that's what counts in the fast food industry.
Me and Diego went to the back door entrance and rang the bell. A toothless madam of about sixty answered the door. I gave her the secret password: "We're here for the chicken twister pussy platter." She coughed up some phlegm and signaled for us to enter.
There were about six girls in cages wearing tight greasy Polo shirts tied up at the midriff, and four shirtless guys in leather pants rubbing themselves down with raw chicken. I looked at Diego to gauge his reaction. He was down for whatever.
The madam told us to pick one, five dollars each or three for ten. Diego pulled out a fifty dollar bill and I thought the lady was going to shit herself. In fact, she actually might've done just that, I couldn't tell. So anyway, Diego decided that he was going to fuck everyone in the room. Even the madam. I took no part in it, as I was far too busy recreating classical sculptures in mashed potatoes at the break table. I was nearly finished with a scaled down version of Rodin's "Gates of Hell" when some bitch landed in it ass first. That's when I got disgusted and left.
A few days later I saw Diego again and he looked sick. His head was swollen and he couldn't talk. I asked him what was wrong and he handed me a slip of paper that said "Salmon Nilla". That was the stage name of one of the prostitutes, and she had given him some kind of raw chicken sex disease.
He scribbled another note saying that he was going to sue KFC but he needed my help in covering up the details of how he got infected. Before he could explain his plan in detail, he caught a load of buckshot from behind, blowing open his chest and spraying me with blood, fucking up the new coat I had just gotten from Goodwill. You know how hard it is to find a nice coat without blood on it? It had all the buttons and everything. No holes in the pockets, either.
Then I heard a deep southern accent say, "Don't nobody sue the Colonel and live to tell the tale." I didn't get a good look at him because he was in the shadows, but I knew it was Sanders. He shot a grappling hook to the top of a skyscraper, and just like that he was gone.
Fuck it, next time I'm going to Denny's.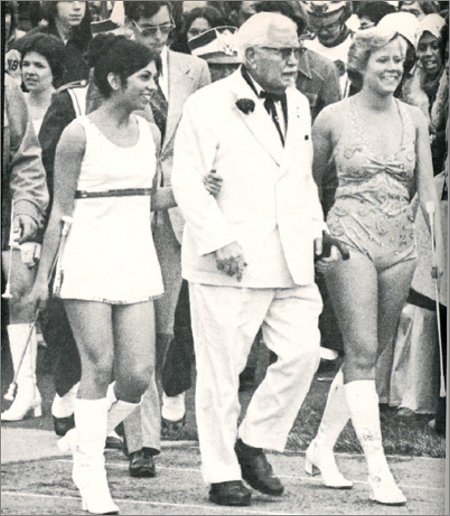 Get our newsletter for new comedy. Join satire writing classes at The Second City!