By staff writer Paul Frank

Adam
Eve is such a bitch. Today, she walked in on me pleasuring another lady and she freaked out and yelled, "No sex for a week!" Uh, hello! We're trying to populate the Earth here, Eve! Plus, last time I checked, "Thou Shalt Not Give Another Woman Cunnilingus" wasn't one of the Ten Commandments.
Oh, wait, the Ten Commandments aren't out yet. Moses told me to keep that shit hush-hush, too. Where's the "delete" button?
Eve
That Adam is such a hornball! Today I came into our room—OUR room—and found him giving some wench cunnilingus. He never gives me cunnilingus! Plus, since me and Adam were like the first two people on Earth or whatevs, that girl was probably one of our kids. One of our many lovechilds.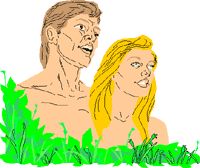 Aww, thinking about that makes me smile. I love Adam so much. He's such a sweet, rebellious guy. I guess that's why all those tramps like him. Whatever. I'll start wearing smaller leaves over my vagina and then he'll start paying attention to me.
Adam
Eve is SOOOOO cramping my style! Today, I was taking a hit from my bong and she comes out of the bathroom (who's she putting on makeup for, anyway? I think she's beautiful as is) and says, "Smoking weed again, you lazy fuck?!? You're just gonna sit there and laugh your dumb ass off at the Spanish channel??"
What's wrong with that? The Spanish channel is fucking hilarious! They dress up in weird costumes sometimes and speak gibberish all the time!
Don't even get me started on Eve when I bust out the coke. Actually, then she just wants a line and I give her one and it's all good. Anything to shut that bitch up. She acts like she's the first woman on Earth or something.
Eve
Today, me and Adam had a romantic night doing coke together. The only way he'll hang out with me anymore is if I score some coke and share it with him. We gave God a huge-ass line and He seemed to be content, but then five minutes later He goes, "This is some bunk shit! I can get way better!" and Adam said, "Do it, then, faggot!"
He never did.
Adam
Eve's turning into a cokewhore. I heard she sucked Cane's nasty dick for an 8-ball. An 8-ball? Bitch, if you're gonna suck Cane's herpes-dick, you better get more blow than that!
Eve
Today, my pussy-ologist told me I can't physically have a baby at this point in time. He said I was doing too much cocaine and that all my STDs don't help the situation, either. Fuck him. An apple a day keeps the doctor away, so I'm going to hit up every apple in the fucking garden. I don't care what God said.
Adam
Eve, that dumb bitch, thinks the more coke I do, the hornier I'll get. I think she just read that on Wikipedia or some other bullshit site. Maybe if Wikipedia started doing coke, I'd believe it. Listen Eve, just because you have sex so you can get coke, doesn't mean coke makes me want to have sex. Remember when you hit on Moses when you had your period and he told you he could part the Red Sea but he ain't about to part that red sea?
Eve
Today, God told us we can touch any plant we want, just not the dank one in the way back. Christ, I hope God doesn't start hooking Adam up. Whenever Adam's high he's too lazy to fuck me. Or he'll fuck me, but I have to do all the work. Or he'll just rub my nibbles for a really long time, only licking them occasionally. It doesn't even feel good.
Since Adam doesn't satisfy anymore, I've been trying other people/gods. I tried coming on to God the other night, but He was so drunk He couldn't get It up. He got really mad and screamed "You're not My type!" And I guess He really isn't my type, either. God's really paranoid about the cops. He keeps saying He's gonna go up to Heaven and lay low for a while, maybe make his Son come down to Earth and take all the blame for His felonies. Yeah, right.
---
Get 10% off The Second City comedy classes with code PIC. Subscribe to our newsletter for new articles.